Russell Wilson-led Seattle Seahawks succumbed to their first defeat of the season at the hands of a determined Arizona Cardinals outfit on Sunday night. Dual-threat quarterback Kyler Murray led the home team to a 37-34 OT win against their NFC West rivals. Despite the negative outcome, 22-year old wide receiver DK Metcalf grabbed headlines with a stellar display for the visitors.
ALSO READ – "Definitely Got Better" – Patriots Coach Bill Belichick Optimistic Despite Humbling loss
Russell Wilson, Pete Carroll heap praise on wide receiver DK Metcalf
DK Metcalf is FREAKY FAST. @dkm14

📺: #SEAvsAZ on NBC
📱: NFL app // Yahoo Sports app: https://t.co/FSTZl0ocgC pic.twitter.com/WSuLjzfIl3

— NFL (@NFL) October 26, 2020
DK Metcalf is having one hell of a season with the Seahawks. On 24 receptions this season, Metcalf has 500 receiving yards to his name with five TDs. Here's what head coach Pete Carroll said about his star wideout after last night's dazzling display.
"That was one of the best football plays I've ever seen. It was just remarkable. You saw him realize what was happening, the opportunity, and he just used all that marvelous skill that he had and will to go run the guy down. And it was such an incredible play because of what happened afterwards," Carroll said at the post-game press conference via the team's official website.
Franchise quarterback, Russell Wilson, was also left speechless after what he witnessed from Metcalf last night.
He said, "It was one of the most remarkable plays I've ever seen. He just kept going, man. It was just unbelievable play by him, just the effort. I really respect him for that. That's what it takes, just a winning effort. Like I've told you guys, he's one of the best players in the league, he's one of the most special guys I know, he's one of my best friends, and I really respect him."
Budda Baker claims that's the first time he's ever been 'Hawked'
DK HAWKED MY ASS… #RESPECT

— Budda Baker (@buddabaker32) October 26, 2020
Meanwhile, Arizona Cardinals safety Budda Baker also admitted that Metcalf pulled off an incredible play at the University of Phoenix Stadium last night.
He said, "I was running, and next thing you know, I see big 14 coming after me. He got me. That's the first time I've ever been hawked in my entire life."
Cardinals coach Kliff Kingsbury was obviously delighted with last night's OT win over the Seahawks. However, even he could not help but comment about Metcalf in the post-game presser.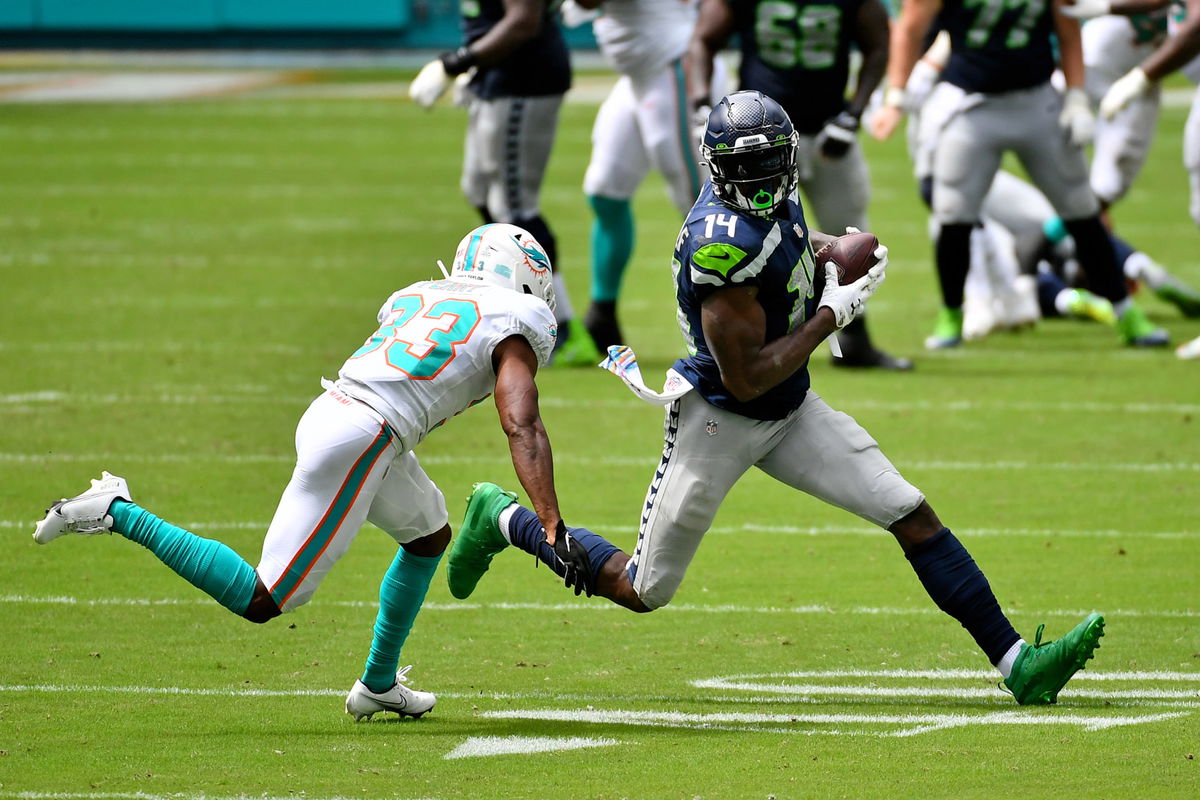 "Until that huge stallion of a human came galloping out of nowhere. Phenomenal anticipation by (Baker). DK Metcalf is an absolutely freak athlete, and what an effort play by him. High school coaches will be showing that one for years—just don't give up on a play," Kingsbury added.
The Cardinals are still second in the NFC West with a 5-2 recording heading into Week Eight of the season. A win over Super Bowl contenders Seattle Seahawks is exactly what the Kingsbury's squad needed at this point in their 2020 NFL campaign. Will Kyler Murray lead the Cardinals to the Super Bowl?
ALSO READ – "George Kittle Has Been Our Best" – Kyle Shanahan Raves on About Tight End